The American Singer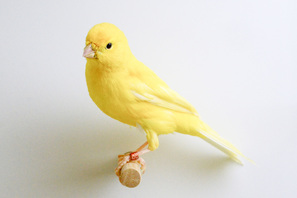 An enduring and beloved breed.
If you remember fondly a canary from your childhood or from years ago, it was probably an American Singer.
The soft trill song, moving from low to high and back again, sometimes ending in a chirp or a whistle, is the soothing song of an American Singer. There is a reason this breed is so well known and loved.
American Singers are well proportioned, beautiful canaries that produce and parent well. If you are searching for that classic canary sound in a beautiful canary package choose an American Singer.




---
The Fife Canary
Most personable of all the canary breeds!
Unlike other canaries that only want to live in "bird space," the Fife canary wants to get to know you.
This little round bird is active, curious, and fearless. Some have even become finger-tamed. The male Fife's chop song is cheerful, frequent and experimental because he is often trying to outsing the dishwasher or the TV- just to get your attention.
Fife canaries are willing parents and they make extremely cute babies.
If you are looking for a bird friend pick a Fife!




---
The Irish Fancy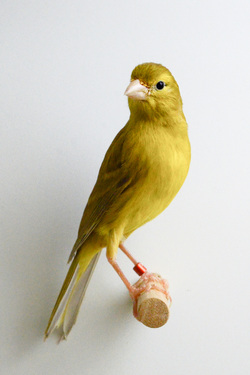 A new canary for the USA.
The first pairs were imported in 2008 from Ireland and England where they are already a very popular breed.
Developed from the German Roller canary, the Irish Fancy is a small sleek bird with a beautiful smooth feathering.
The male's song is full, rolling, composed of chop notes, trills and many variations.
Both males and females are reliable breeders, hardy and dependable parents.
If you are looking for something new - a small slim bird with a bright robust song - the Irish Fancy is your canary.




---
The Raza Espanola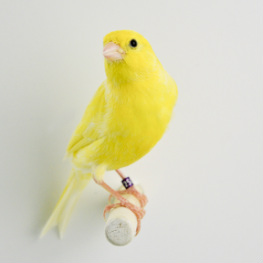 The smallest of all canary breeds
Razas measure less than 4 1/2 inches from their beak to the tip of their tail, about the size of a green singer finch.
Because Razas are small, a pair can live cheerfully together in a cage that could only hold one canary of a larger breed.
The male has a medium loud full rolling song and the females are good breeders, feeding and rearing their young without problems.
If you are looking for a tiny bird with a big canary song, or a pair to fill a smaller cage or to join your finches, the Raza Espanola is a perfect choice.




---



© 2014 Susans Canaries . All rights reserved